One of the most critical kitchen remodeling tips is to make a priority list. This way, you can focus your budget on the features that are most important to you. For example, you may prioritize a new gas stove, a top-of-the-line refrigerator, or a built-in pantry. If you're remodeling a kitchen with your partner, make separate priority lists for each of you.
Save Money With Open Shelving.
Open shelving is a great way to reduce the cost of upper cabinetry without sacrificing storage capacity. Installing a few shelves instead of cabinets can save homeowners as much as $1,000. Open shelves can also be more attractive and lend a little personality to a kitchen. Ensure that they're anchored securely to avoid sagging and wilting, which makes them look tacky. Consider downsizing the number of items you keep on them.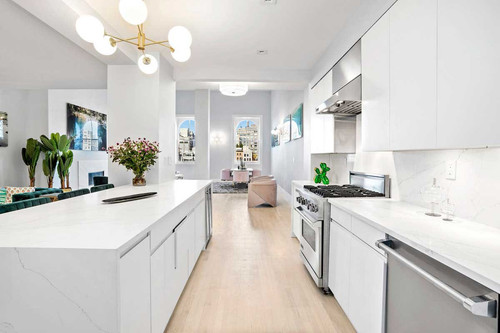 According to most kitchen remodelers, cabinetry is one of the biggest expenses in a kitchen renovation, but choosing an open shelving plan can help you save money and add an instant update to your space. It may not be ideal for all tastes, but it may work in an interim setting.
Repaint Cabinets
One of the best tips for a successful renovation is to choose the right colors. Choosing the right colors for your kitchen will make it look better and create the mood you want. When choosing colors, remember what other elements of your house complement them. For example, choose a contrasting color for your cabinets if you have a black-and-white kitchen. This will make your kitchen look more modern and give the impression of distance and warmth. Using this strategy will make your kitchen more pleasant to stay in, and you will also be able to save money on purchasing new cabinets.
While planning a kitchen remodel, you should also consider lighting. Proper lighting can help make your kitchen appear more open and bright. It can also highlight special features of your kitchen, such as the island and backsplash. Without proper lighting, even the most beautiful backsplash would be dull. If you have a glass cabinet, consider installing in-cabinet lighting.
Build A Temporary Kitchen
When it's time to renovate your kitchen, you'll need a temporary place to prepare meals and dishes. While removing your kitchen from your home completely might not be possible, you can create an alternative space with a portable kitchen. This space won't take up much space, and you can use items you already have, like boxes of kitchen supplies. You can add a plastic tablecloth to the top of these boxes for a temporary kitchen.
Hire A Designer
Hiring a designer is a crucial step in ensuring a successful kitchen renovation. A designer can advise you and help you select the right products and materials. They will also ask you questions about your needs and lifestyle to determine the best possible design for your kitchen. A kitchen designer or expert kitchen remodelers by RUPP Family Builders will be familiar with the nuances of the construction process. They will work closely with the contractors and their crews. On the other hand, a homeowner will not be familiar with the intricacies of engineering and construction.
Plan Your Budget
Planning your budget for a kitchen renovation is crucial for success. It's crucial to establish how much you can spend on various kitchen components, from the cabinets to the appliances. Depending on the size of your kitchen, you can save between 30 and 40% by planning your budget accordingly. Before starting your renovation, research the different kitchen styles and types available. You can use online resources, showrooms, and magazines to help determine your kitchen's style and cost. Once you have a general idea of what you want, choose two or three options for cabinetry, countertops, flooring, and appliances.