If it's a Caribbean destination you're after — beaches, mojitos, ocean views — you may be surprised to discover that Alaska Airlines offers flights to some warmer tropical climates, including the Caribbean.
But before you start planning your tropical getaway, you may want to temper your expectations. While flights do exist, destinations are in short supply when you compare the list to other domestic airlines.
That said, if you have Alaska Mileage Plan miles you're ready to put to good use, there are certainly ways to redeem them for a beach vacation. We'll show you how.
Where in the Caribbean does Alaska Airlines fly?
Alaska flights to the Caribbean are in fairly short supply. In fact, there are only four destinations on the airline's route map: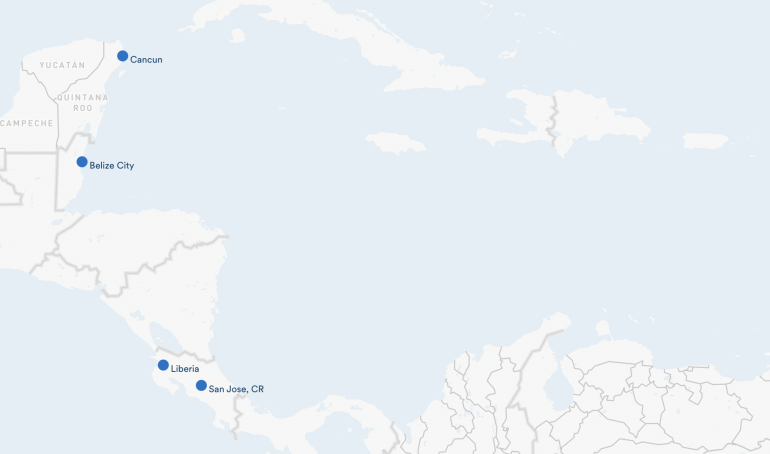 Flight availability
Fortunately, there are plenty of flights available to those four destinations, including:
92 flights to Belize City.
Fly direct
Only two airports offer nonstop flights to the Caribbean:
Both offer nonstop flights to Cancun and Belize City, but you can only book a nonstop flight to Liberia and San Jose from Los Angeles. That's not a lot of options, but most other flight options only have one stop.
The days you can fly direct will also be fairly restrictive. For example, the nonstop flight from Los Angeles to San Jose, Costa Rica only occurs on Sunday, with a return flight on Saturday. Nonstop travel between Liberia and Los Angeles, on the other hand, is much more flexible with options often available six to seven days a week.
Nonstop flights from Los Angeles and Seattle to Cancun are available seven days a week, so you have more flexibility with how long you'd like to stay and what days you prefer to travel.
Flights between Belize City and Los Angeles or Seattle are much more unpredictable, often occurring on weekends or a select few days per week.
Limited availability of some flights make it almost necessary to search for flights using Alaska's Calendar search tool. This will show you all the available flights within a calendar month. It is also a helpful tool for finding the least expensive flight.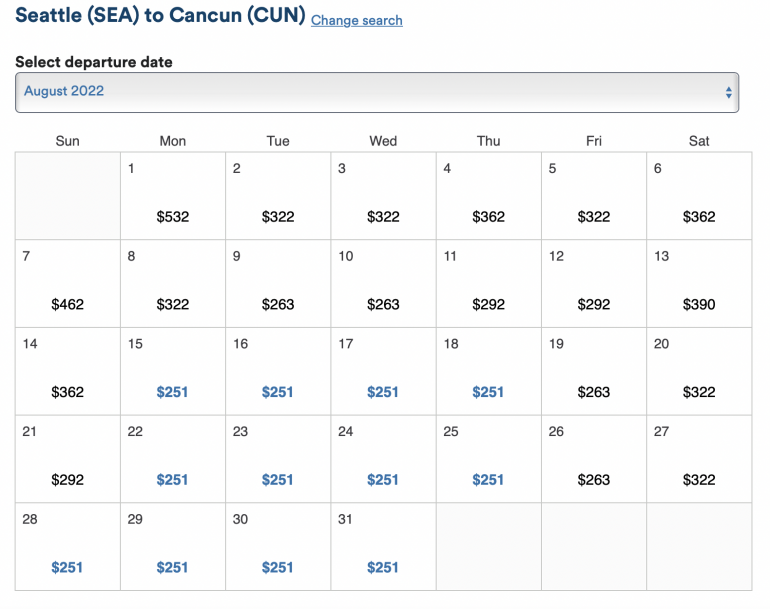 Booking Alaska award flights to the Caribbean
Alaska is one of few domestic airlines that still publishes an award chart. While this is helpful when it comes to trying to figure out how many miles you'll need, when searching for a flight — the actual miles required can vary greatly.
17,500 miles each way for economy seats in the main class cabin.

27,500 miles each way for seats in business class.

52,500 miles each way for seats in first class.
However, in one search for a flight from Seattle to Cancun, flights required at least 20,000 miles and as many as 50,000 for economy seats.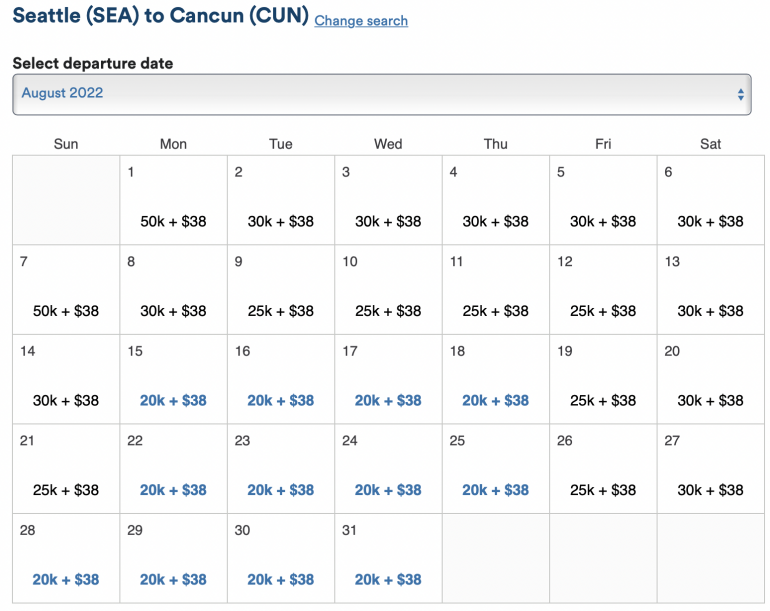 And there tends to be a large gap between economy and first. While a flight from Los Angeles to San Jose, Costa Rica required 25,000 miles in the main cabin, a first class seat was nearly triple that — coming in at 70,000 miles.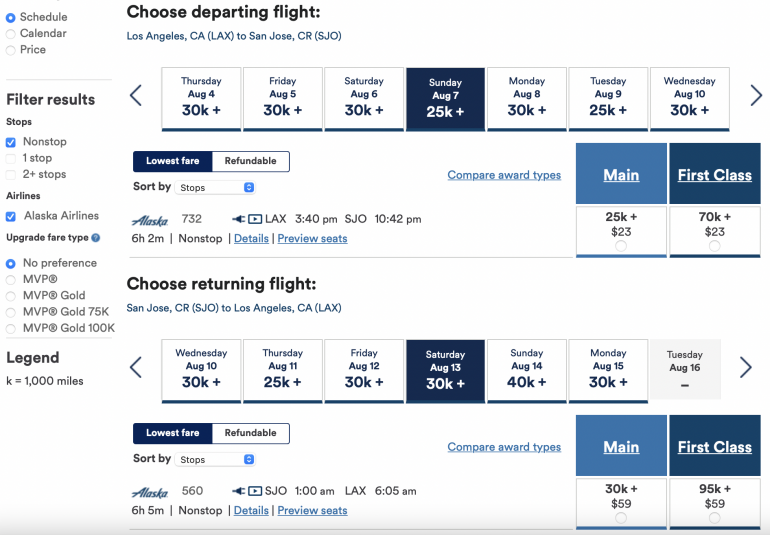 And note taxes and fees when booking an award flight: They can range from as little as $6 when jetting to Belize City and as high as $91 for a return flight (though most fall somewhere in between depending on the destination).
Earn miles faster with a credit card
If you don't have enough miles to book a round-trip award flight to the Caribbean on Alaska, the fastest way to put a lot of Mileage Plan miles in the bank is by signing up for one of the airline's credit cards. Alaska offers two through Bank of America, complete with welcome bonuses:
Alaska Airlines Visa Signature® credit card ($75 annual fee): Buy one ticket, get one for just the taxes and fees ($0 fare plus taxes and fees from $22) and receive 40,000 bonus miles with this offer. To qualify, make $3,000 or more in purchases within the first 90 days of opening your account.

Alaska Airlines Visa® Business card ($50 for the company and $25 per card annual fee): Get 40,000 bonus miles plus Alaska's Famous Companion Fare™ from $121 ($99 fare plus taxes and fees from just $22) with this offer. To qualify, make purchases of $2,000 or more within the first 90 days of opening your account.
Nerdy tip: You cannot use a companion fare on an itinerary booked with miles.
If you want to fly Alaska to the Caribbean
If you want to fly Alaska Airlines to the Caribbean, you can. Just know that you won't have the same plethora of destination options at your fingertips as you would with many other domestic airlines, and first class award travel tends to be on the high side. But if you manage to score Alaska's Famous Companion Fare, flying to the Caribbean with the airline may still be worth it.
How to maximize your rewards